Sunny Beach
One of the most popular european summer resorts
"Wild parties and crazy nightlife! There is a lot more to Sunny Beach than that, trust us!"
Bulgaria is famous worldwide for many different things and reasons. But there is one resort whose name draws the attention every single time it is mentioned. And that is Sunny Beach. Despite the controversial opinions, Sunny Beach is actually an outstanding place to spend your family summer vacation in Bulgaria.
Sunny beach, Bulgaria
Sunny Beach is the most significant resort on the Bulgarian seaside and is located 30 km in the northern direction away from Burgas. The Sunny Beach resort is part of the Nessebar municipality. Nowadays Sunny Beach and Nessebar seem to have merged together which makes visiting the latter a really simple task.
In the past years Sunny Beach has an image as the ultimate tourist location to those who want to indulge themselves in the endless bar parties that take place in there. But just one look at the many different faces of the resort will prove that anyone can find their place in Sunny Beach. A good sign that Sunny Beach is a lot more than a simple party venue is the extensive amount of family tourists, of all ages, from the UK, Germany, Russia and the Scandinavian countries that visit the place every year.
Here you can see an article about Golden sands, Bulgaria
Book your holiday villa in Bulgaria
Sunny beach balcony view
The extremely large number of hotels (more than 200) virtually supplies the tourists with limitless possibilities to find the perfect place to stay. It would not be bold to say that in Sunny Beach anyone can find just the accommodation they desire. Hotels in the resort vary from two-star hotels to even five-star ones so it would not be hard to come across a place that fits in your price range and satisfy all of your needs precisely. You can find any sort of deal, from a regular accommodation only and Bed And Breakfast experience to an all-inclusive stay and a luxurious 5-stars hotel. Keeping in mind the extremely large accommodation ability, it probably would not come as a surprise to anyone that Sunny Beach is, in fact, the largest resort on the Bulgarian seaside.
Sunny beach coast line
According to www.climatestotravel.com, The climate of Sunny Beach (Slanchev Bryag), located on the Bulgarian coast of the Black Sea, is slightly continental, with cold winters and hot summers. The average temperatures are similar to those of Venice (Italy).
Here are the average temperatures.
From March to May, is an unstable season: the first mild days, are followed by the return of cold weather, accompanied by wind gusts. Typically, the temperature becomes permanently pleasant in the second half of May.
From June to August, is hot and sunny, with a few downpours or thunderstorms, usually of short duration. At night it's quite cool, especially in June, while in July and August there can be hot and muggy periods, when, however, sea breezes relieve the heat. Daytime temperatures are generally pleasant, although at times there can be heatwaves, usually short-lived, with peaks of 40 °C .
From September to November, is initially mild and often sunny, but then it gradually becomes colder; sunny periods alternate with short periods of bad weather, however, the rains are generally not abundant.
Private accommodation in Sunny beach.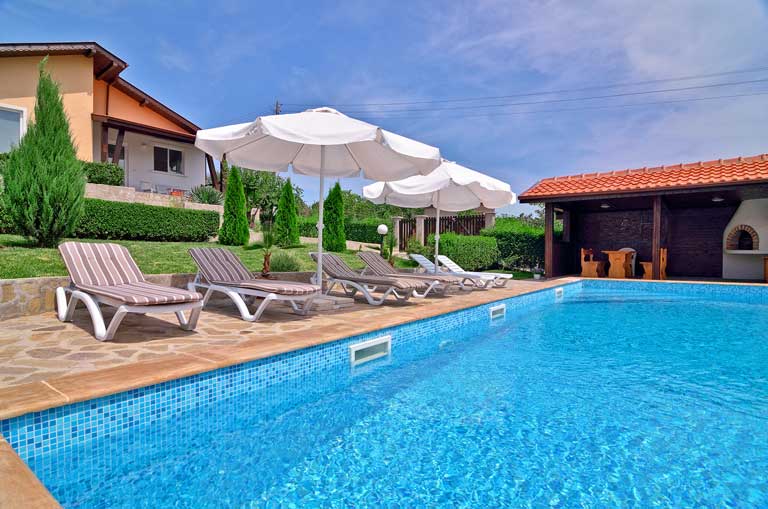 To those of you who prefer having a little bit more privacy, there are also some outstanding options to rent an apartment in Sunny Beach or rent a private villa with a swimming pool in the nearby village of Bryastovets. Both those options will really make a huge difference to your holiday experience overall.
But no matter what your accommodation of choice is, you are guaranteed to have a great time in Sunny Beach. The amazing coastline of the resort really lives up to the name of it: Sunny beach! The astonishing 8-kilometer-long coastline stands out with the really miraculous, fine, golden sand that Bulgaria is famous for. From May to late September the sunny beaches of the resort attract tourist from all over the world with the overall amazing sunbathing and beach experience they offer.
Beach of Sunny beach.
The beaches of Nessebar merge with those of Sunny Beach, creating the chances for a long walk down the coastline that will lead you to the beautiful old town of Nessebar that is really worth visiting as it is considered a tourist attraction with immense historical value by UNESCO.
More about Nessebar click – here
Nessebar is not the only interesting city that is located near Sunny Beach. To those of you who would love to explore more of Bulgaria's stunning coastal towns – make sure you visit the city of Burgas.
Here we have an article about Burgas city guide.
Nightlife in Sunny beach.
The outstanding nightlife of Sunny Beach is really what the resort is famous for (we have an article about Nightlife in Sunny Beach too) The numerous clubs and discos that specialize in different kinds of parties are guaranteed to blow your mind. There is something for every taste – techno, pop, "chalga" etc. The craziest parties in the resort take place in Cacao Beach Club. The venue really bears the spirit of those really large venues in Ibiza. The spot has hosted world-famous DJ's (such as David Guetta, Swedish House Mafia, Victor Calderone and many more) and has been the venue for the famous Solar Summer Festival that takes place in July and August. So if you are looking for a high-quality party experience that is one of the places you want to visit. It seems as if Bedroom Beach Bar and Den Glade Viking (the happy Viking) are some of the most preferred locations as well.
Thousands of people visit the resort in hopes of finding whether the nightlife here is as good as people describe it, and they never leave disappointed. Aside from dancing all night long in the numerous clubs, people can also enjoy the tourist-favorite yacht parties that seem to be the perfect finishing touch to a long night of chilling in the local clubs. If you want to give the yacht parties a try all you need to do is book one for you and your crew and spend the day having the time of your lives while enjoying the beauty of the Bulgarian seaside.

Here we have an article about Nightlife in Sunny Beach.
Aquaparks in Sunny beach.
But Sunny Beach is a lot more than the regular party destination. Aside from the numerous bars and clubs, on the premises of the resort tourists can enjoy the numerous possibilities such as restaurants, spa centers, beauty salons, swimming pools, parks, and even sports facilities.
You will find a detailed review of Sunny beach Aquaparks here
Restaurants in Sunny beach.
Restaurants in Sunny Beach (we have an article about that too – see Restaurants in Sunny Beach here) offer really different types of experiences from one another. Firstly, there you can find all of the world-famous fast-food brands such as McDonald's, Subway, KFC, etc. We would not really advice you to go straight to the known food brands since the resort offers a wide variety of places that offer the famous Bulgarian cuisine. It would be such a shame to come on a holiday and Bulgaria and fail to try local specialties such as Tarator and Banitsa. If you are not really interested in experiencing local flavors in cuisine, you can try some of the places that serve classic Asian, Indian or Italian cuisine.
Here we have an article about Restaurants in Sunny Beach
Activities in Sunny beach.
Overall, the resort takes pride in its versatility that gives tourists the chance to make the most out of their stay in Bulgaria. Tourists can have a blast on the tennis courts, volleyball, basketball and beach volleyball courts as well as on the mini-golf courses.
For the adventurists, there are numerous water sports that really will get your adrenalin levels rising high! Surfing, water skiing, and horseback riding are just some of them.
As we've already mentioned, Sunny Beach appeals to every taste, since there is something literally for everyone to enjoy. If you are really into shopping, then you are guaranteed to be satisfied with the range and quality of shopping possibilities. There are over 15 000 different types of shops scatters all over the premises of the resort. They vary from souvenir shops to shops of famous clothing brands to local smaller clothes and souvenir producers. The large diversity will really leave you satisfied with your shopping spree.
A truly remarkable feature of the resort is its eco-friendliness. Most of the transportation on the premises is conducted by bicycles, rickshaws, and mini-trains. The parks really help develop that sense of being close to nature. It is a really amazing asset of the resort that most other resorts seem to lack.
Here we have an article about Activities in Sunny Beach
Family-friendly resort
Sunny Beach may be famous for its nightlife but it offers some of the most exceptional holiday experiences you can find anywhere in the country. The numerous possibilities that the resort offers, the eco-friendliness, the family-friendly hotels, that can be found there, really make this destination an all-tourists favorite.
In case you want to visit Sunny Beach you may as well consider visiting the lovely village of Bryastovets. It is a small village that is located in the skirts of the Balkan. We have there a number of private villas with a swimming pool for rent and it will supply you with the unique chance to get in touch with the beautiful Bulgarian nature.