Golden Sands Resort – Info
Golden Sands is one of the biggest and most famous Bulgarian resorts.
Here is a list of all of the things you should know about the world-famous resort.
Golden Sands used to be one of the most popular and famous Bulgarian resorts. Its name is still quite familiar and really sparks the expectations of the future guest of the resort. And this is just what they get – perfect, glittering golden sands, warm bright-blue waters and over 500 hours of sunshine throughout the summer season. The temperatures reach an average of 29-30 degrees and the temperature of the water does not get below 25 degrees.
Here you can see also an article about Sunny Beach, Bulgaria
1. Location
Golden Sands is one of the oldest and most well-known resorts in Bulgaria. It is situated about 17 km's on the north from Varna. Which makes this about 2 hours away from your private rental villas with a swimming pool in Bryastovets. The resort merges together with two other resorts – Saint Constantine and Helena and Riviera.

The resort is one of the oldest – its construction began back in the 1960s and is developing further and further to that day. Nowadays there are over 90 hotels that offer accommodation of different sorts, so there is quite a variety to choose from. From 4-5 star hotels to lower quality. From a simple BB to ultra all-inclusive. This resorts can offer it all.

What it also has in stock for you is a lot of peace, quiet and a lot of nature! Since it is situated in a nature park with the very same name. Due to that fact, the resort is considered one of the cleanest and most untouched ones that you can visit. Despite being in a location that it is close to such a large town as Varna, the resort has managed to keep its natural sites and natural charm.
Book your holiday villa in Bulgaria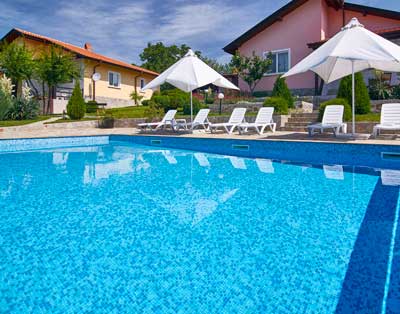 featured
2. How to get there
Transportation to and from the resort is fairly simple. If you find yourself reaching Bulgaria through the Varna airport it would take you only about 25 minutes to reach the resort with bus line 409 that takes you straight from the airport. It is pretty much the same drill with a taxi but it is probably going to be a lot more expensive than the bus ticket. The last possible option is by rent- a – car service. And it will probably be just a 15-minute drive.
In case you are staying in one of our holiday rental villas with a private swimming pool in Bryastovets and just want to explore the resorts. It would take you about two hours with a bus to reach the destination. A drive to Golden Sands would take about half an hour less.
3. Why is it worth visiting?
The resort is considered one of the most exquisite ones on the Bulgarian Black Sea Coast because of the beautiful, golden, glittering sand that is really just as you would expect it to be, keeping in mind the name of the place, and the pristine clear blue waters of the sea. The beach is around 3.5 kilometers long and is about 100 meters wide, which is a size that is quite rare.
The beach is one of those – typically Bulgarian – relatively shallow beaches, and it is important to note that the water gets deeper really slowly and gradually, so it is safe for children since there are do underwater depressions.
The resort is really picturesque and green and eco-friendly, which makes it a preferred place amongst families with children. The resort is mainly suited for a pedestrian way of getting around since it tries to remain as clean and clear as possible. It has also been named one of the most ecologically preserved and clean resorts with the award Blue Flag.
An article about best places to visit on Bulgarian north Black sea coast
4. Nature park "Golden Sands"
The national nature park that surrounds the resort may be the smallest one in Bulgaria but it is rich in different endangered plant species. Be careful not to destroy any of them while taking a hike on one of the 5 designated tourist routes. On all of those tourist routes, you can come across some outstanding places for relaxation, old fountains, breathtaking sea-panoramas and much more. There are also some historical and cultural sites to be observed. Most of them come from ancient Greek and Byzantine times and are remnants of walls, buildings, pottery, etc.
One of the great treasures of the nature park is the purest quartz sand that is so typical of the region. It is where the resort derived its name from and it is the main attraction to tourists. The nature park is a loved place by both locals and tourists and is really well maintained and preserved, thus a favorite spot for relaxation and hikes.
Best secret beaches in Bulgaria
5. Nightlife in "Golden Sands"
Golden Sands may not be as crowded and full of life in the nights as Sunny Beach, but there are definitely some wild parties and clubs that offer a night-long worth of fun and entertainment. You can find some good clubs that would fit your taste. The abundance of genres played in those clubs and discos will satisfy all of the needs of the party animals.

For the foodies, there is a wide range of restaurants and little pubs that serve all different sorts of cuisines. We generally advise you to give Bulgarian cuisine a chance, but if it isn't to your liking, you are going to find some classic Italian, seafood and even well-known food brands.
An article about Nightlife in Sunny Beach
6. Variety of activities to indulge yourself in
One of the most interesting facts about Golden Sands is that it is situated atop some outstanding mineral springs. This naturally means one thing: SPA!
There limitless different options and places where you can enjoy some spa and the definite benefits of the mineral water. Some hotels offer procedures with mineral water, honey, curing mud and much more. If you are looking for a pleasant experience and a relaxing massage, maybe you should look around and find a suitable spa procedure for you.

The resort offers an abundance of sports amenities to choose from. You can find way-over 10 tennis courts, basketball and volleyball rings, as well as manifold courses, bowling, and even horseback riding. Golden Sands is famous for the paintball tournaments that take place there and are open for everyone to participate in. But if you want to just spend a day working out in the gym – you are in luck – because the resort offers that opportunity as well.

An exotic, different experience that is on offer is the archery lessons that take place in the resort. You can sign up and get guidance from a professional archer.
There are a lot more different activities available but a definite tourist favorite is visiting some of the interesting and impressive sites near the resort.
An article about Activities in Sunny Beach
7. Interesting sites
The most interesting and impressive site must be Aladzha monastery. It is a cave monastery that was established in early medieval times. It was inhabited by monks in the period between the 13th and the 14th century. It has been declared a monument of extreme cultural as historical significance and has drawn tourists from all over the world to explore it. Into the limestone rock has been caved an entire complex that consists of a church, living cells for the monks, a cemetery, kitchen, a crypt, and even some farm premises. That monastery was used until Bulgaria fell under the Ottoman rule. As this even happened the monastery was abandoned.

But there is something even more ancient and interesting that is just 500 meters away from the medieval monastery. It is another group of caves that people call the Catacombs. It dates back in time to the early days of Bulgaria. Which would mean about the 6th or 7th century? It is there that archeologists found numerous traces of civilization including coins, pottery, and writings on the walls. If you decide to visit the place you will probably get familiar with the numerous spooky stories about ghosts of monks, hidden treasures and people who found their death in the caves. All of them really get the atmosphere to a whole new level, mixing history and fiction and creating a once in a lifetime experience for tourists.

There are an even called Sounds and Light show – Legends of Aladzha monastery. It is really interesting and intriguing. If you want to visit it – keep in mind that it takes place in the evening time. The entry fee is around 20 leva. If you visit the site during the day and with no performance – the fee should be around 3-5 leva. Overall a small price for such a breathtaking adventure.

Some of the other popular attractions are the Varna Zoo and Kabakum beach. But they simply cannot compare to the atmosphere in Aladzha monastery.
Golden Sands may seem way too far from your holiday rental villa with a swimming pool in Bulgaria but it sure has some things to offer, that cannot be found anywhere else on the Bulgarian Sea Side. It truly is an intriguing place.