The best Aquapark in Burgas and Sunny beach
After long waiting and counting of the days, it is finally time for your holiday in Bulgaria. The only task in front of you is to spend an amazing holiday with your family. What a better experience for you and your kids would be by visiting an aqua park?
So here is the good news. You and your children are lucky and will enjoy some really good aqua parks on Bulgarian black sea coast. If you stay in our holiday villas you will have the opportunity to visit the best three water parks on the coast. The distance to each aqua park is around 15 min drive. You could reach them by your own car, rent a car or a taxi. We will help you with the taxi service- it will cost you around 20EUR up to 5 people.
Book your holiday villa in Bulgaria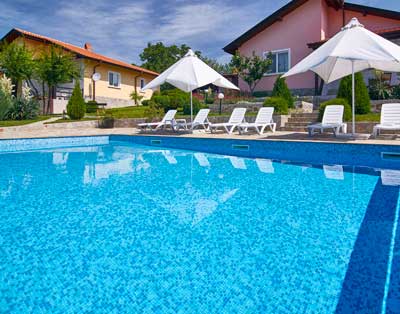 featured
Each of the three aqua parks has different kinds of attractions, restaurants and bars. You could spend there a half-day or a full day experience enjoying the sun, food and fun with your entire family. All of the water parks offer safes and lockers that are not included in the entrance price and free sunbeds and parasols.
And remember if you are going there before getting any sun baths please use beach cosmetics with high UV factor.
The first Aquapark in our list is AquaPark Nessebar – "Aqua Paradise".
The Aqua Paradise is one you should visit while you are on holiday here. This is the biggest aqua park in Bulgaria. It is situated on an area of almost 19 000 sq. m. and has more than 40 attractions, pool bar, two cocktail bars, mediterranean bar and fast food restaurants.
The slides in the Aqua park are jointed into a pirate world with castles and pirate ships. The fans of strong emotions can enjoy the extreme water facilities like Kamikaze and Space jam slides, real Tsunami, River rafting and rafting slide of 146m long. Of course there are slides for those who prefer less speed. For the smaller once there is Children's water paradise: low water pool with a water castle as well as a children's swimming pool with 6 slides. When you are tired and you need to relax there are Lazy River, water massage and Jacuzzi.
Getting to the Aqua Paradise is so easy. It is situated on the main road E87 between towns af Ravda and Nessebar/Sunny Beach or only 15 min. driving from our villas. In front of the park you have parking for about 300 cars so you should be able to find a free parking place for your car.
About the prices check here: Aqua Paradise
The second Aquapark which we recommend you as our guests is "Action aquapark" Sunny Beach.
This park may not necessarily cover more area than Aqua Paradise, but there are a lot of slides and activities. It is an aqua thematic park situated in the western part of Sunny Beach. You should note that the park has been already in full swing from the beginning of June. The park has about 30 water attractions for both adults and children. There are also thematic bars and restaurant in a garden with gorges tropical palms and Mediterranean shrubs, geysers and fountains, sunbathing and relaxation areas.
For adrenalin lovers there is the "Extreme" slide with a 70km/h with an 18 meters drop or the Free Fall which is almost equally fast. The other adrenalin places are Kamikaze, Turbulence, Hydrohute, Multislide, Twister, Black hole, Uphil Navigator etc. The kid's zone consists of water castle with adventure pool; animation program and mini zoo. So there are plenty of stuff for the kids to do while you resting. If you get hungry the water park has several fast food restaurants serving pizza, pasta and burgers.
The Aquapark has 150 parking places so it would be easy to find a place for your car there. Getting to Action Park is very easy. You just should take the main road to Sunny beach/Varna and after 18 min. drive you will see the entrance of the Action Aqua Park.
About the prices check here: Action aqua park
The last one in our must see Water parks list is Sunset Aqua Park, Pomorie.
Only a few km from Burgas and Burgas airport is a brand new 2017 Sunset Aquapark. It is situated in the entrance of the little town of Pomorie. The distance from our villas and village of Bryastovets is again only 13min drive.
The water park can be boasting with 32 slides and of course different facilities and entertainment places so it is one of the top aqua parks in Bulgaria. All of the attractions offer different features and are of varying degrees of difficulty so there's something for everyone – from the smaller ones till absolute adrenalin seekers. The Mini Pendulum, Kamikaze, Free Fall, Twister Slide 1, Twister Slide 2, Zero Gravity, Crazy Downhill and Typhoon Tunnel are only small part of the rich choices of slides.
And of course when you and your family are tired can refuel by enjoying the delicious food or drinking cocktails from restaurants and bars on side.
About the prices check here: sunset aqua park
This is our article for the three most visiting aqua parks on the Bulgarian Black Sea Coast.


Remember there are many different activities on our gorgeous sea coast which are waiting for you to discover them.