Free parking in Sunny beach
Parking in Sunny Beach
While you are staying in a holiday villa with a swimming pool in Bryastovets, Bulgaria, you can drive down to Sunny Beach and spend a fun day shopping, sunbathing and exploring the outstanding resort. But remember to keep the parking rules in mind.
Book your holiday villa in Bulgaria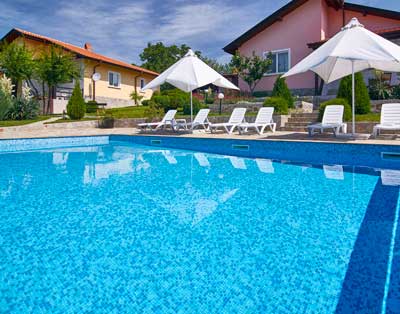 featured
Sunny Beach is one of the busiest and best-developed resorts on the Bulgarian seaside. Chances are very high that you are going to get there by your own car or a rental one, which means that you have to deal with the parking system in Bulgaria. Here is some advice on how to park and where to park in Sunny Beach.
Here you can read an article about Sunny beach, Bulgaria
Payable Blue Zone in Sunny beach
The first thing that you might want to keep in mind is Park in the designated areas. Let's say you are driving down in Sunny Beach and notice a free space just down the road. Before you decide to park anywhere please make sure you are about to occupy an actual parking spot, otherwise, there are really high chances to have your car towed. Many tourists face this problem each year. And the entire procedure that follows having your car towed is really burdensome and can spoil your entire holiday. So carefully check where you are about to park. Check for "no parking" signs and any specific restrictions about parking. It will save you a whole lot of trouble. And just as much time.
Here you can read an article about best activities in Sunny beach
Once you have found a legit parking spot all you need to do is park your car and send a text message to the phone number on the plates around you. This is the Sunny beach Blue Zone. The Blue Zone in Sunny Beach has a working daytime mode in the 10:00 to 24:00 hour range. The sms number is +359 135544 . You have to send the number of your license plate as a text to that number. After that, you will receive an automatic response to verify that your car is parked safely and your parking fee has been paid. Companies usually send you a second text message five minutes before your parking time runs out. So you can renew it in time. Brackets are provided to offenders cars. Bracket Removal Phone is +359 879 255 171 .Tourists are often concerned about additional charges since the number you are supposed to text is Bulgarian and most people use a number from their home country. You should not fear at all since taxes are no larger than the normal and you should not be charged more than usual. You can as well check that information on the tables available to make sure of that.
Car parking in Sunny Beach information here
In case your car gets towed you need to contact the number (+359 879 255 171) that is also written on the parking signs. They will give you further information on what to do and how to get your car back.
Parking lots
The second option to park your car in Sunny beach, is to use private payable parking locations. There are many private big parking lots all over the entire resort. You should just look for a parking sign. The parking fee varies from place to place.
In the end, you should have no trouble to park your car in Sunny Beach if you keep in mind these simple rules:
1. Park in a designated parking area, not in random free locations on the road

2. Don't forget to pay your parking fee through the text message option

3. Keep track of time and how long it is before your parking time runs out

4. Renew the parking subscription if needed
Have fun exploring Sunny Beach!!!
Useful links about Nightlife, Restaurants and beach bars in Sunny beach