Temperature in Bulgaria
Climate and Weather in Bulgaria
We would like to give you some advice on how to choose the best time for visiting us in order that you spend a wonderful holiday in our villas.
Naturally, this may be helpful if you have the possibility to make your own choice when and where you will be on holiday and how to organize it in advance.
Weather in Bourgas and Sunny beach areas (Climate in Bulgaria)
Bulgaria has four separate seasons – winter, spring, summer, and autumn, and their duration does not always coincide with the astronomical one. The following table shows the average min. and max. temperatures for Bourgas.
Weather in Burgas, Bulgaria
Villa to rent in Bulgaria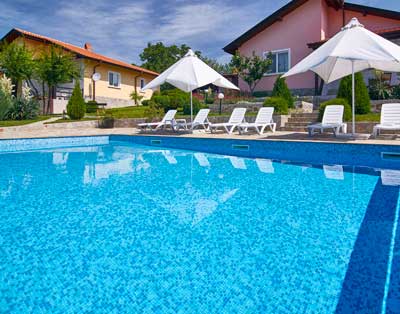 featured
Weather Temperature in May in Bulgaria
What is the weather in Bulgaria in May?
Practically, the beginning of the summer season in Bryastovets starts from May and it usually lasts by the middle of October. In May, the average daily temperature is around 21º C, it is sunny but rain is not an exception. The temperature of the seawater is around 16-18º C and it is not very suitable for swimming in the sea.
Water in our pools is 20-22º C in May and these temperatures are quite pleasant for bathing or short swimming but staying in the water for too long is not recommended. Instead, you may lie on the sun lounges by the pool especially by lunchtime and in the afternoons and enjoy the good weather. This month of the year will suit those of you who do not bear the summer heat during July and August and who prefer walking in nature and exploring the area, traveling by car to a different destination and be sure this area has lots to offer and all close by.

As May is still the beginning of the summer season the roads are not so busy and driving can be very pleasant. It is essential to hire a car while staying in Bryastovets because this will give you the opportunity to make trips in the region and even to travel to more distant destinations that are worth seeing. If you are a fan of this kind of holiday and you wish to explore Bulgaria we can assure you that this is just the right time. You may have a look at the useful information that is on our web site and the places of interest (see activities) that you should not miss.

Our prices in May are much cheaper in comparison with the rental prices in the high season. The money that you save can be spent on trips to Bourgas and shopping or in the restaurants and pubs in Sunny Beach and why not on hiring a larger car that will make your journey much more comfortable.
Weather Temperature in June in Bulgaria
What is the weather in Bulgaria in June?
We think June is the best month for spending a holiday in Bryastovets. The average daily temperatures vary between 23-27º C; the water in the pools is around 23-25º C and the temperature in the evenings is around 20ºC, it can get up 15ºC cold in the night – this is perfect for a good night's sleep. During the days the sun is shining all day long and you may stay in and by the pool longer. Some short rain could be expected, but it never rains for days. Usually, the ground is dry the next day. Greenery is all around, you can feel the fresh air. A walking trip around the village is a good idea. The sea is 20 min. away by car and the temperature of the seawater is around 22-24º C in June. Due to the fact that the summer season is still in its very beginning, the beach, the restaurants and the streets in Sunny Beach are not crowded with people. Although June is perfect for a summer holiday our rates are still cheaper than in July and August. We keep the rental rates low in June because our villas are not fully booked yet as in the high season and we aim to attract more guests. The saved money can be used for much more pleasant things such as having lunch or dinner in some of the local pubs or drinking beer (550 ml) that is really cheap here. Food and drinks are also at very reasonable prices – average price 8-9 Levs for dinner per person in the local pub. This is no joke.
Weather Temperature in Bourgas
| Month | Abs. Max °C | Abs. Min °C | Ø Max °C | Ø Min °C | rel. Humidity % | Ø Rain mm | Days w. Rain > 1mm | Ø Sunlight h |
| --- | --- | --- | --- | --- | --- | --- | --- | --- |
| Jan | 19.5 | -13.2 | 6.1 | -0.9 | 81 | 41 | 9 | 2.5 |
| Feb | 22.0 | -14.0 | 7.5 | 0.3 | 80 | 43 | 7 | 3.2 |
| Mar | 25.2 | -11.7 | 10.9 | 2.9 | 80 | 40 | 6 | 4.1 |
| Apr | 32.0 | 0.0 | 16.1 | 7.3 | 78 | 54 | 7 | 5.9 |
| May | 34.2 | 2.8 | 21.0 | 12.2 | 79 | 42 | 6 | 8.0 |
| Jun | 35.6 | 7.8 | 25.4 | 16.2 | 76 | 49 | 6 | 9.1 |
| Jul | 39.2 | 11.1 | 27.7 | 18.0 | 74 | 33 | 4 | 10.6 |
| Aug | 34.8 | 10.0 | 27.2 | 17.0 | 74 | 30 | 4 | 9.8 |
| Sep | 36.0 | 1.1 | 24.3 | 14.7 | 76 | 37 | 4 | 8.1 |
| Oct | 32.8 | -3.9 | 18.8 | 13.7 | 78 | 47 | 4 | 5.3 |
| Nov | 25.0 | -7.2 | 13.3 | 5.8 | 80 | 56 | 6 | 3.3 |
| Dec | 21.0 | -12.2 | 8.3 | 2.1 | 79 | 48 | 7 | 2.0 |
| Year | 39.2 | -14.0 | 17.2 | 9.1 | 78 | 520 | 70 | 6.0 |
Temperature in July and August in Bulgaria
What is the weather in Bulgaria in July and August?
July and August are considered as "high season" months. Most of the foreign tourists use to take their holidays in the heat of the summer; the children are off school so for millions of people this is the best time for having a holiday. All Bulgarian summer resorts are overcrowded especially Sunny Beach.

The daily average temperatures in Burgas, bulgaria vary between 30-33º C and around 24-25º C in the evenings. However the temperatures in Bryastovets differ from the temperatures in the area – in the village, they are lower mainly in the nights while in Sunny Beach or in Bourgas, for example, the temperatures in July and August are some degrees higher.

The village's location in the Eastern part of Balkan Mountain enables the movement of the air masses from the sea to the upcountry (the so-called sea breeze) and this in combination with the fact that the village lies about 300 m. above the sea level is the reason for its favorable climate.

So you have the opportunity to swim and to bathe in our pools during the whole day (tº of the water 25-29º C) or simply to relax enjoying the sunshine; in the evenings when it becomes cooler a walk in the village followed by a dinner at the BBQ is a perfect option to end the day. Drinking spirits in the nights will not make you feel hot due to the cooler evenings in Bryastovets but anyway be careful what and how much you drink to avoid a headache in the morning.

You can also make daily trips to Sunny Beach, Nessebar, Pomorie, and Bourgas for sightseeing or shopping. Night life there never stops so the numerous restaurants, pubs and bars are at your disposal.

The advantage of our villas is that if you wish to have a calm and relaxing holiday combined with peace and fresh air while reading a book by the pool, instead of more active holiday be sure that here in Bryastovets no one will bother you.
This will not be possible if you are staying in a hotel in Sunny Beach or in any other resort on the Black Sea coast where tranquility and peace is the last thing that could be found.
Weather Temperature in September in Bulgaria
What is the weather in Bulgaria in September?
And finally here comes… September – it is quite similar to May but there are some certain differences mainly related to nature. It is not so green and fresh although in Bryastovets you will not feel it because the greenery in our villa complexes is maintained within the whole season. In Bulgaria, September is also the month in which lots of seasonal fruits and vegetables ripen. Many of them are ecologically clean, their taste is unique and it has nothing in common with the fruits and the vegetables you are used to. Do not miss to try them!

The summer season in Bulgaria may not be too long (4-5 months) but our country has a lot to offer – sea, sun, beautiful nature and friendly people.
Take your chance, plan your holiday and we would be happy to welcome you to our villas. You will have a great holiday and many pleasant memories when you leave. Perhaps you will wish to come here again as it is said in the "Song of Bryastovets" placed on our home page.
Websites to check the temperature and weather forecast in Burgas, Bulgaria