The best natural mud bath and salt lye in Bulgaria
The best beach "SPA center" in Bulgaria for free
Book your holiday villa in Bulgaria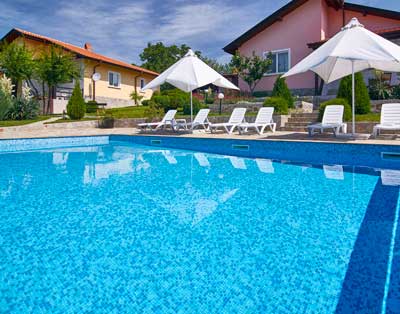 featured
One of the most popular and healthy place you can visit during your stay in one of our villas or apartments is the famous free open-air mud and salt-lye bathing lake in Burgas, Bulgaria. The healing mud and salt-lye pools are in the south part of the Atanasovsko Lake. This is the largest free outdoor "SPA center" in the country.
There are many things you can do while you are on holiday in or around city of Burgas. But only one is so useful for your health and please notice – it's FREE. The mud and salt-lye on Burgas north beach are really well known with its health benefits. The black mud is a proven treatment for different illnesses. Healing natural mud is a sedimentary product of the enclosed saline lake; it's clean and homogenous, has a dark grey to black color and smells of hydrogen sulphide due to the numerous decaying microorganisms. It contains inorganic substances such as silicates, sands, gypsum, iron and aluminum compounds, different hydroxides and salts.
This natural mixture has been formed for thousands of years of decaying unicellular organisms, weeds, fish, crayfish, mussels. One centimeter of mud takes at least one year to form. The essence of mud treatment is the complex effects on the whole peripheral nervous system. Its thermal properties dilate the blood vessels and open new capillaries. This reduces swellings and pain, heals wounds and reduces scarring, improves metabolism and regenerative processes.
Mud not only heals but it also beautifies and rejuvenates by bringing calcium, iodine, phosphorus, etc. to the skin. It heals almost the full range of skin disease, arthritis, disc herniation, gynecological problems, plexitis. It is only counter-indicative in cases of tuberculosis, venereal and malignant diseases. In the many articles about Black sea lye I read that it was even more healing than the Dead sea baths. The water in the Dead sea is quite stinging to the skin and it felt quite bad if it gets into your eyes or mouth. Black sea lye was quite less aggressive and it felt better. You can float on the water on both places.
The Black Sea lye has proven medical results – it's applied in the treatment and prophylactics of locomotory system diseases, skin inflammations and wounds, varicose veins, colds and flus. It's recommended for arthroses, arthritis, tendonitis, disc herniation, joint dislocation and sciatica. It is counter-indicative only for tuberculosis, venereal diseases and cancer." It is recommended you don't stay in the lye for more than 20-30 minutes because your heart might be overburdened. Visiting the natural healing mud, salt and lye pools is completely free. That's why in the summer it's normal to see people covered in mud. You can follow the local's example, who enjoy a few healing treatments after a long workday.
When you decide to take a mud bath, you cover yourself with mud. Then you have to wait a while to dry and then you can wash yourself in the Black sea.
You could also have some rest on the nearby beach which is covered with black sand – because of the iron content. This is relaxing and recharges the energy of everyone who enjoys the healing gifts of nature – mud, lye, sun and sea water.
The area becomes more tourist-friendly with the wonderful bike lane. There are bars which are open for the summer. There is a car park next to the mud and lye pools, where you can park your car for free. There is also free wi-fi access. You can also find showers nearby and the beach is less than a hundred meters away.
How to get there
You can reach it by foot or bike from the north beach of Burgas. There is an alley connecting the city with the salt ponds. If you are going by car, you need to take the road to Sunny beach. There is an exit with a sign Solnitsi (Солници) a few kilometers after Burgas and before the quarter of Sarafovo. It is also nice to go there early in the morning on sunrise or in the evening, on sunset, to enjoy the view to Burgas.