Camping sites on the bulgarian Black sea
Camping is definitely one of the most fascinating ways to spend your holiday. All the charm that comes with it – the starry sky above you, the campfires and the time spent with friends- is really an experience of a lifetime. The fun and jokes around the fire and most importantly the great memories you make will last forever.
Best places to visit in Bulgaria
You probably would not expect it but Bulgaria has a lot to offer when it comes to camping not only in the stunning mountains but on the Bulgarian Black sea coast as well. The combination of Bulgaria's beautiful nature, pristine virgin beaches, crystal clear waters, and fine golden sand make up for some of the most outstanding locations for seaside holiday camping. Just imagine – you having a cup of coffee in the morning, near the almost extinguished campfire, amongst a marvelous forest and gazing over the Bulgarian sea. That is just the type of camping experience you can find in Bulgarian summer.
You have probably already heard of the stunning Bulgarian nature – the fresh air, deep, unexplored forests that meet with the sandy golden beaches on the Bulgarian coast, where no one has set foot in weeks or even longer. The peace and serenity, the beauty and the breathtaking landscapes make up for an outstanding experience. We have prepared a list of the most intriguing places in Bulgaria to visit.
If you happen to be staying in our holiday villas for rent in Bulgaria you might consider renting a car and coming up with some plan of the places you want to visit in Bulgaria. Our Bulgarian holiday villas with pool are also close to the real Bulgarian nature and one of the famous beaches in Bulgaria like Sunny Beach, Pomorie beach, Burgas Beach, Nessebar beach, Irakli beach, Gradina beach, Smokinya beach. They are one of the best rental villas with pool in Bulgaria for its price
If you are coming for a holiday in Bulgaria just to explore those wild natural sites then you better have some plan ahead of you as to what means of transport you are going to use since most of the outstanding camping sites we have picked out for you (and in general) are located in areas that are not accessible by public transport and you might need to rent a car to reach the locations. If you are planning on hitchhiking keep in mind that it is not a really common thing in Bulgaria and there are high chances you might not get suitable or any transport at all. So you might want to limit your luggage in case you need to walk to the camping sites or walk larger distances.
Another piece of advice is to not get over packed with food. There are some really nice local vendors that sell their own produce just on the road so you can buy all the things you want for a nice barbecue camping on the go. We are mostly talking about vegetables and fruits, but you can also come across some fresh fish stands down the side of the road. So keep your eyes open since these products is not only cheaper and in better quality but it saves you the inconvenience of carrying it for hours in your backpack if you decide to walk there.
Keep in mind that camping is a really magical experience – the freedom to wake up amidst breathtaking woods and then rush to the beach or to wake up to the sound of waves crashing on the beach or wake up with the first lights of dawn and breathe in all the salty freshness of the morning air or even listen to the soft sizzle of food on the campfire. It is all a remarkable experience.
And a short but important reminder. Make sure you cherish and appreciate nature. It has remained so beautiful and pure because people who camp in it took their time and care and did not leave anything behind. If you camp on some of the virgin locations, where you can't find any trash bins, please remember to clear out the trash once you are leaving. It would make a huge difference and would ensure the pleasant experience of others and even you when you come back for another vacation on the camping site (I am sure you definitely would want to come again in Bulgaria).
Now that you are already prepared for what you can expect in Bulgaria's best camping locations, here is a list of some of the most interesting places in Bulgaria you must visit.
Camping Site Garden (Camping Gradina)
This is probably one of the oldest and most popular camping locations on the Bulgarian seaside. And this is mainly because of the pristine clean waters and fine sparkly golden sands that mesmerize the eye.
This miraculous place is located just between the cities of Sozopol and Chernomorets. The entire camping complex is huge (more than 16 acres). It offers the opportunity to park your camper on the beach. For those of you looking for the authentic camper experience – the complex offers more than 90 pitches for a tent.
The campsite is situated far away from the hustle and bustle and the noise of some of the bigger cities. It is a peaceful and quiet place for relaxation and comfort. The beach at the campsite offers some interesting activities such as windsurfing, kitesurfing, volleyball grounds and some essential facilities such as a shop nearby, a restaurant and anything you might need. The camping site comes with bathroom and shower facilities as well as 24/7 surveillance. In 2018 most of the amenities and facilities went under renovation and improvement so the campsite is in its top condition.
The prices vary depending on the line of choice. But the average price for placing a tent is somewhere between 70 and 100 leva for a day. For those of you who plan a longer stay, there are some discount options you might ask about while making a reservation.
The camping is situated only 35 min by car from our rental holiday villas in Bulgaria
Camping site Kavatsi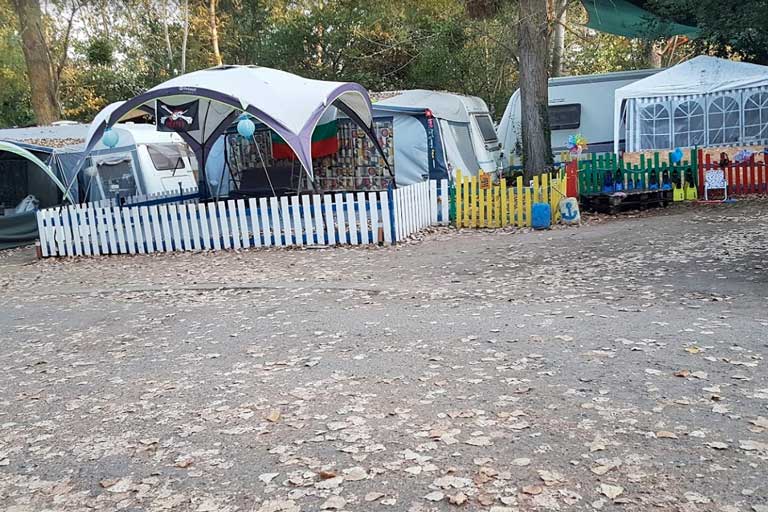 This camping site is located only 40 min by car from our beautifull holiday villas with pool in Bulgaria. Also this camping site is near to one of the hottests tourist points – the city of Sozopol. It has been home to the joyful summer memories of many tourists from all over the place.
There are lots of about 200 tents, but you can actually rent a small bungalow or a camper as well. The bungalows are not renovated. Apart from that, the campsite offers different amenities such as a beach bar, a restaurant, a fast-food dining location as well as a sea panorama restaurant, a pizza place, and a shop.
Probably one of the best places for camping in Bulgaria. It could allow you to relax and try the Bulgarian nature.
Camping site Arapya
Camping Arapya is located just a few kilometers away from the village of Lozenets. It is also just a few kilometers away from the city of Tsarevo. It is one of the most beautiful spots on the Bulgarian seaside.
The abundance of pine forests nearby and the close proximity to the beach make this place one of the most peaceful and relaxing places where you can just enjoy the diversity of nature in Bulgaria. There are 3 wildlife reserves that surround the camping site. If you are looking for a peaceful and really picturesque location. Then this is one of the places in Bulgaria you would like to visit.
The camping is 1 hour driving away from our holiday villas in Bulgaria and the city of Burgas. The trip you will take to reach this destination will only help you see more of the stunning beauty of Bulgaria's nature.
Camping The Cool Place
Camping The Cool Place is located just 2 kilometers away from the city of Kiten and about 65 kilometers away from our holiday villas for rent in Bulgaria and as the name suggests is a cool place to visit in Bulgaria. It is a relatively new place and takes pride in being eco. There are no cars available on the premises but you can carry your luggage from the parking lot to your camping zone.
The camp has all of the necessary amenities – bathrooms as well as kitchen zone, etc. There is also a restaurant as well as a shop on camp.
The prices are really good overall. A double tent for the night comes around 40 Bulgarian leva. There is also an option to rent a whole camper. So it quite depends on your preferences.
Camping site Dolphin
This camping site is located in a really beautiful and picturesque area and is just a minute away from the beautiful beach near the city of Ahtopol and an hour from the best holiday villas in Bulgaria. It is one of the best places to visit in Bulgaria.
The camping has recently been renovated so you can expect all the bathrooms and common amenities to be in excellent condition. Another great advantage is the supermarket located in the camping site. It is really well stocked and will provide you with absolutely anything you might possibly need during your stay. This might seem unimportant but trust me the place is away from any city and taking a walk to the nearby resorts – Ahtopol and Varvara might prove to be a terribly tiring task in the summer heats. So the shop is a real bliss.
The price for a tent in this camp is 30 leva. There is yet again the opportunity to rent a camper. But if you are looking for a real camping experience you should probably pick a tent. And just lay in the open, listen to the sound of wave crashing down the beach, enjoying the stillness of summer nights at the seaside.
Glamping zone Gora
This outstanding and unusual place is located just between the cities of Chernomorets and Sozopol, and only 30min away from our rental villas in Bulgaria.
This is not exactly a conventional camping site and is quite different from the other sites mentioned in this list. It is one of the places you should visit in Bulgaria.
To begin with, we should probably clear out what "GLAMPING" is. According to Google – glamping is a portmanteau of "glamorous" and "camping" and describes a style of camping with amenities and, in some cases, resort-style services not usually associated with "traditional" camping. And there is no better way to put it. It is just a marvelous new way of camping.
This outstanding location is located within the premises of Camping Gradina we mentioned above, but it offers a completely new experience. It is situated in the forest part of the camping and consists of tents with soft beds and snow-white sheets. It is as luxurious as a camping experience can get. And the best part? You are staying in the actual forest but you are still just a couple of steps away from the sea.
If you are searching for tranquility and silence, then you will definitely love the place. It naturally comes equipped with all the amenities – shared bathrooms and shared showers. There is also a suitable BBQ spot.
This place is a little bit more on the expensive site – with tents costing 40 Euro per night or 80 Bulgarian leva.
Camping Silistar
One of Bulgaria's most popular tourists' places. The campsite has recently been awarded in the annual Best Bulgarian Campsite survey as Favorite campsite on the Bulgarian Black Sea coast for the years 2018 and 2019. This is justified by the fact that it is located in one of the most beautiful natural reserves in Bulgaria. And it is also just 5 minutes away from the most beautiful hidden beach in the country – Silistar. This is one of the places you can add to your "best places to visit in Bulgaria"
The prices are just like in any other place – around 30 Bulgarian leva for a tent. But what is unique here is nature, the scenery, and the beach. You can also rent a camper for about 60 leva. If you are looking for beautiful nature – Natural Reserve Strandzha – where the camping is located will provide more than you can even imagine.
All of the shared bathrooms and showers are renovated and there are some volleyball and basketball grounds. So there is actually plenty to do even if you don't go hiking in the mountain.
One key thing you need to remember is that there are no shops or restaurants nearby so you better come well prepared with food and drinks. There are some common fridges you can use to cool your beers and store foods. The place is electrified but you can actually get access to electricity only from 8 pm to 12-1 am.
If you are looking for an authentic camping experience this campsite is coming to the close to the mark and is one of the top places to visit in Bulgaria.
This list of the best places to visit in Bulgaria is only the basics. There is so much more to see and visit in the country. If you are looking for a holiday in a private villa, you can always come and visit us in Bryastovets. But no matter where you decide to spend your holiday, please keep one thing in mind – keep the Bulgarian nature clean and waste-free.