Places to rent a villa in Bulgaria
There are many holiday resorts, small towns and cities along the Black sea coast in Bulgaria where you can rent a holiday villa. All of these places are perfect for spending a summer holiday with your family in Bulgaria. While not everybody will fancy each of these places we are sure that you will find at least one place that you will fall in love with and will come back to spend a holiday in Bulgaria. You will find some of these holiday locations on the Activities page, where the places of interest are limited to the nearest (to our villas) towns and attractions only. Here we prepared a list with all holiday places on the Black seas coast, hopefully this would help you to get an idea about the holiday options you would have on the Bulgarian Black sea coast.
Holiday Resorts on the Bulgarian Black sea coast
Book your holiday villa in Bulgaria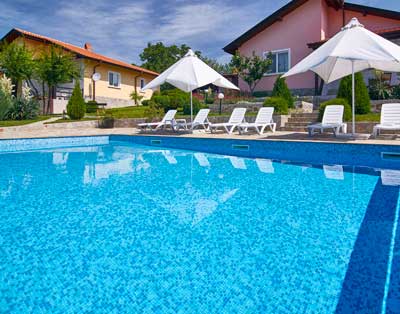 featured
The Bulgarian Black sea coast is divided virtually by South and North from the Balkan Mountains. The major city on the North Black sea coast is Varna and the major city on the South Black sea coast is Bourgas. Respectively there are two airports to get to your holiday destination in Bulgaria – Varna Airport and Bourgas Airport.
---
Black sea coast – SOUTH
Sunny Beach: Party town image
Sunny Beach is the biggest and most popular resort in Bulgaria, blessed with the longest and widest beach on the coast. It's also very clean, with a Green Flag award to prove it. The resort itself with its maze of winding streets is a short distance from the beach, which is lined with hotels. There's something for everyone here, including watersports, mini golf, aqua park, bars, restaurants and discos. Despite of the party town image Sunny Beach is actually an area with a huge amount of cultural and historic interest.
Nessebar: Commercial
Southeast of Sunny Beach is the town of Nessebar, a UNESCO world heritage site. Set on a rocky islet connected to the mainland by a tiny road, it's the beautiful old wooden houses, cobblestone alleyways, museums and medieval churches that have put the little town on the map. High season brings a deluge of souvenir shops and coach tours.
Sozopol: Genuine charm
This ancient town on a narrow peninsula is what Nessebar must have once been like, before the invasion of low-end commercial mass-tourism. There are quite a few cozy lounge bars in the cobblestone alleys that weren't there 20 years ago, but otherwise the traditional wooden houses are being refurbished, the ambiance is laid back, several of the restaurants have a nice ocean view and there are two great beaches here. A few kilometres further south there are sandy (dune) beaches that stretch for several kilometres.
Sveti Vlas: For families
Sveti Vlas is a quiet little town by the sea five kilometres north of Sunny Beach, full of Bulgarian charm. Some nice hotels, a few restaurants and several small beaches.
Obzor: Footnote
Half way between Varna and Burgas is tiny Obzor with 2,000 inhabitants (wintertime). It is a scruffy little town with a few restaurants lining a square and a few insignificant Roman ruins. But there is a nice sandy beach.
Elenite: Mainstream
This purpose-built resort in a bay is famous for its therapeutic waters, pretty well run and a sedate place in the summer. Hotels are scattered through a forest that runs alongside a long sandy beach. If you are looking for quiet nights stay here and take the bus to Sunny Beach in search of party.
Primorsko: Cheap and noisy
A cozy and relatively undeveloped town on the southern part of the Black sea coast that mainly attracts tourists from Bulgaria and Eastern Europe. The city has a long beach with shallow water. Most tourists stay in self-catering accommodation, but there are gigantic hotels near the beach. There is good shopping, the food is authentic and there are several bars with cozy sofas to hang out on and sip cheap drinks. You can choose between swimming in quiet waters or big waves.
Tsarevo: Sleepy
A dustier, sleepier version of Primorsko, Tsarevo used to be the favourite holiday destination for the Bulgarian royal family. Now popular mainly with Eastern European budget holidaymakers.
---
Black sea coast – North
Golden Sands: Modern
Golden Sands competes with Sunny Beach for the title of best beach resort and attracts both older visitors that prefer resting by the pool, families with children that enjoy the beach and Scandinavian youths that party all night long. Golden Sands is more like any other seaside resort in Europe than any of the other Bulgarian resorts – for good and bad.
Balchik: Mini beaches
Further north, the small unspoilt town of Balchik lines a mountainside along the beach. This holiday spot is popular with families with children, who crowd the tiny beaches. The sandy beaches here are man-made, but there are stretches of rocky shoreline and jetties to swim off. The main tourist sight is a royal summer residence with a large botanical garden.
Albena: Car-free
Partly car-free, the purpose-built holiday town of Albena was built in the late 1960s and is easily recognizable by its pyramid shaped hotels. One of the more expensive resorts on the coast, the hotels are spread out over a large green area by the sea.
It is very quiet here, with a nice beach, great watersports, and nearby historical villages and picturesque coastline. It feels like a resort for pensioners who want a quiet time and nothing to do.
Sveti Konstantin: Relaxed


Sveti Konstantin is the beach resort just nine kilometrews from the port city of Varna, the third biggest city in Bulgaria and one of the most attractive cities in the country. Here modern, stylish hotels are appearing at record speed along the beaches. A pleasant place, but mainly popular with locals taking a weekend break from Varna.


Good to know:
Stay: There has been a surge in new holiday properties in the past 10 years and the standard is pretty good. There are also many private holiday villas to let.
Eat: The Bulgarian cuisine is influenced by the Turkish, Greek and Serbian disches with meze, salads and grilled dishes. Beer is cheap and some Bulgarian wine is very good value.
Speak: Bulgarian. In tourist resorts most people speak English and German.
Shop: Handicrafts, leather ware, clothes, wine and spirits are cheap.
Plan: In July and August the beaches are crammed with tourists. The summer season lasts from June to early September.
Some of the materials in this post are from: novinite.com