Organising the perfect family holiday
The secrets of organising the perfect family holiday – "preparing for your holiday in Bulgaria" Guide
Planning a family holiday is a stressful experience, sometimes it feels like just one big headache.
We have tried to put this guide together to help take some of the stress out of planning your next Bulgarian holiday, trying to make your holiday in Bulgaria easier in every way. The guide will help you with tips to help you plan your holiday and enjoy it to the full.
Book your holiday villa in Bulgaria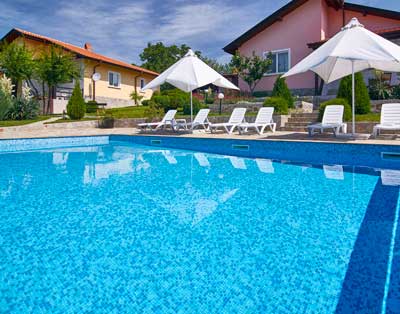 featured
Get the family involved
When planning the holiday in Bulgaria you should try to get the whole family involved. This can really help to make the whole planning experience much more enjoyable, and make sure everyone's happy with the choice of your holiday rental! If your children are old enough, it would be a great idea to get them involved in researching some possible activities and places to visit online.
Top Tips
Get all the family together and decide what they all of you want from your holiday, such as "sun", "beach", "rest".


As a family, decide on a short list of destinations. Basically you should decide whether your holiday rental should be on the beach or a bit rural too.
Set the kids a challenge to go online and get travel guides and to do a bit of research about the destination.
Encourage them to look at what activities and facilities are on offer and make a note of those that could be of interest to each family member.
Discuss the best options and take a family vote to reach a decision. This is the way to get everyone excited about the holiday.
Once you've reached a decision, encourage the kids to research the history and culture of the area, which adds an educational element and helps you plan what to do when you arrive.
Older kids can print off details or bring along useful books or guides they've found
When it comes to any family holiday, one of the main headaches is simply deciding where to go. Everyone has a different idea of what makes a great break; the kids might want sea, sand and lots to do, whereas you might want a tranquil escape with some interesting sights to see. The good news is our villas can satisfy the whole family's needs. Check the villas we have for rent in Bulgaria – they are all family friendly.
For families with younger children sitting on a tight budget, the Bulgarian coast offers an abundance of family-friendly activities. Our villas are only 20 km to Sunny Beach, the bustling Bulgarian resort providing long stretch of sandy beaches, plentiful shops and bars and water and amusement parks. See location here.You will find on the Bulgarian coast attractive small towns and ports (Nessebar, Sozopol), safe beaches and a tranquil atmosphere. Bulgaria is a brilliant option, offering excellent value for money plus an abundance of cheap flights and family-friendly coastal resorts. The 378km of sunny beaches on the edge of the Black Sea are separated by fishing villages, secluded vineyards and romantic peninsulas. The beaches are safe for children, with no currents, gently sloping beaches and blue flag accreditation
.
Visit the Blue Flag website (www.blueflag.org) for a complete list of accredited beaches in Bulgaria. A Blue Flag acts as a guarantee to tourists that the beach or marina they are visiting is one of the best in the world.
Choosing Accommodation
Many families (88%) preferre self-catering accommodation in Bulgaria over hotels for a family holiday, and it's no surprise. Self-catering accommodation provides more space, more privacy and complete flexibility when it comes to mealtimes, which is a great advantage with kids. It leaves you free to eat in, or to sample the delights of local restaurants. It's also a much better option for larger families. How often have you struggled to find suitable, affordable hotel accommodation if you're a family of five or more?
Villas with private pools – Often the top of the wish-list, a villa with its own private pool means no more fights for a sun-lounger and parents can relax by the pool-side, while kids wear themselves out splashing around all day.
Farmhouses or farmhouse apartments with pools – Farmhouses are great for a relaxing, rural break, most often found in peaceful settings in beautiful countryside, but within driving distance of the local town or village. Find one with a pool to keep the kids amused on days in.
Particularly useful things to look out for, or ask about include:
Properties with a washing machine, so you don't need to pack as much.
Places with a BBQ, to encourage Dad to do some cooking!
Places with TV and DVD players. In case of rainy days, or if you want to have a quiet night in and keep the kids entertained.
Additional services such as welcome packs, supermarket shops, babysitting and meal delivery companies.
Packing like a Pro
Some top tips about preparing and packing:
To enjoy your holiday, start preparing passports and other important information at least four weeks prior to leaving the country.
Lay clothes out on each bed so you can easily see what you're going to pack.
Don't pack too much; the less gear you take the better, and often you don't really need it. Kids don't care if they wear the same clothes three times, and if you are really desperate you can always buy items whilst away!
Split clothes between all cases so everyone has something to wear if a case gets lost.
The destination has been chosen, the accommodation has been booked so just sit back, relax and dream about the impending holiday… or so you thought. It's now time to snap into action – packing is where the hard work kicks in!
Here's our handy check list to help you remember all the essentials
Passports. Check everyone has one, knows where it is, and that it's in date. Many countries require at least six months left on your passport before letting you in, so check this in plenty of time.


Insurance. Whatever type of holiday you're taking – whether it's a package deal or you've booked flights and accommodation independently, you should always get travel insurance. Don't forget to get your free Euro Health Card (EHIC) form from your local Post Office. This entitles you to free or reduced cost health treatment anywhere in the EU.


Paperwork. Organise all of your holiday documents in to one main folder and then make photocopies of passports and insurance for each person to put in their luggage so you're prepared if these items get lost.


Clothes. Whil's a good idea to pack for every eventuality, this doesn't mean you have to take an entire wardrobe! One waterproof, one jumper, one pair of trousers and trainers will suffice in case of bad weather on a sume itmer holiday, for example, then a few key staples to see you through. You do not need a completely different outfit every day for each family member.



Additionally:
Toiletries – wet wipes and tissues can be a lifesaver when travelling with small children! Mobile phone charger and plug adaptors. Digital camera, plus charger. Things to keep the children entertained on the journey (see our top tips in the next section). A small first aid kit (plasters, insect repellent, antiseptic cream and painkillers). Sweets to chew or suck on the plane journey, or earplugs to reduce pain. Sunscreen and after sun.

Finally, don't get too stressed about packing. As long as everyone has their passport and tickets, if you do forget something you can usually buy it at the airport or on holiday, and most of the time you'll find you didn't really need it anyway!
Quality time
Making The Most Of Your Holiday Time Together
Despite the stress that many of you experience planning your holiday in Bulgaria, most of you really enjoy your holiday once you are here in Bulgaria. In today's busy world, a holiday together is a rare chance to spend some quality time with your family and re-establish important bonds, away from the day to day hassles of everyday life. Unless you're very lucky, you only get to do this once or twice each year, so make the most of it!
Tips for quality time together:
When you do 'eat in', encourage the children to get involved by helping you pick enticing ingredients from the local market so you can prepare some dishes that are typical of the country you are in. This will be both informative and fun for them, plus you get a helping hand!

Make time for play-time Parents they get under two hours of quality time together as a family each day when at home, so after chores and homework, there's limited time left to simply relax and play with the kids. So make the most of the extra time on holiday to be silly together and create those funny holiday memories you can look back on and laugh about. This could be as simple as splashing about in the pool with a bat and ball, or could involve something altogether more inventive!



Relax the rules!
Finally, relax! The beauty of being on holiday is the lack of a set routine. As long as your children are safe and sound, relax the usual rules and leave your everyday problems at home. Holidays are meant to be a break from your usual routine and the more relaxed everyone is, the more you'll enjoy your time together. If you're staying in your own villa or holiday home, it's much easier to let the whole family amuse themselves without having to worry about who's doing what all of the time.
Take the grandparents for a helping hand
The ultimate pampering idea is to have constant help at hand – so take the grandparents! This will give you time on your own, time with yout partner and time with more of the family.


A villa or holiday home, with the space and privacy that they provide, is perfect if you do plan to bring the grandparents, or to share with friends and their children. If you like this idea, but would still prefer a bit of space, look for somewhere that has multiple properties on the same site; for example an apartment complex or a converted farmhouse with separate cottages.


Eat in during the day so you can spoil yourselfwith some nice dinners out. One of the great things about holidays is the chance to enjoy mealtimes together, but don't fall into the trap of preparing every single meal like you do at home! A key benefit of self-catering is that it gives you the flexibility to eat in OR out, so save money by eating at home during the day, so can you treat yourselves with some nice dinners out. Limit the cooking by stocking up on fresh bread, croissants, cold meat, fruit and cheeses etc… for breakfast and lunch, and let the family graze on whatever they like during the day and see to themselves!


In addition, if your accommodation has a BBQ, make the most of it! Even if Dad never goes near the kitchen at home, you can bet he'll be dying to fire up the BBQ and try his hand at being Jamie Oliver, so let him do the work for a change!
We hope that our guide will help you plan the perfect holiday for you and your family, and ensure you enjoy it once you arrive too. Holidays are meant to be the best times of the year and a wonderful opportunity to spend some fun, quality time together as a family. There's no reason why planning a holiday should cause too much stress, so we hope you look forward to planning your next great escape!