Bird watching in Burgas, Bulgaria
If you are interested in bird-watching, Bulgaria in general is a paradise and Bryastovets in particular is the perfect base from which to explore the many possibilities that the beguiling Black Sea coast has to offer.
Only 20 km (ca. 12 miles) from the town of Burgas and its surrounding wetlands, you will be ornithologically speaking, in one of the most interesting parts of Europe. With its over 300 different species, including herons, storks, Ibis, buzzards, kestrels, cormorants, woodpeckers, nightingales, warblers and even pelicans, there is something here for just about all bird enthusiasts!
Another interesting place for bird lovers to visit is Pomorie (about 25km) from Bryastovets. Pomorie Lake is a hyper-saline lake better known as a sea lagoon. Here it is possible to see over 200 types of bird, 91 of which are listed as threatened species. In addition to its birdwatching possibilities, Pomorie Lake is also famous for its mineral rich, health giving black mud, which can be used to treat a wide range of skin and joint ailments.
Book your holiday villa in Bulgaria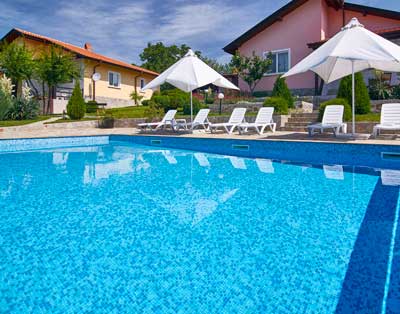 featured
While the whole year offers interesting birding experiences, it must be every bird-watchers dream at least once in their lifetime, to see the spectacular migrations that take place in the Spring (April & May) and the Autumn (August & September) along the Via Pontica. Named after the ancient Roman road of the same name, this is Europe's second largest bird migration route. At this time of the year you are likely to see vast quantities of migrating storks, pelicans and various birds of prey from Russia, Scandinavia and Eastern Europe.
What could be better after an absorbing and interesting day of bird-watching than to return to one of our villas and enjoy a swim in the pool, a home cooked meal and a glass of wine (or perhaps even two!) in the picturesque and peaceful village of Bryastovets!
Popular places for bird-watching in Bourgas region
(Black Sea Coast)
Bourgas is surrounded by tree firth lakes, which are a very interesting destination for bird-watching and ecotourism. They form the so called "Wet zone" which is situated on the "Via Pontica" bird migration route.
Lake Atanasovsko is located to the north of Bourgas and is very salty, because it lies very close to the sea. It is a home of around 316 different bird species. Part of the lake has a status of a protected area.
14 of the bird species found in this region are globally endangered, 170 species are of European natural protection significance and 83 are included in the Bulgarian Red Book which comprises all threatened animal species residing on the territory of the country. Some of the birds which can be observed on the territory of the lake are: Anser erythropus, Aythya nyroca, Branta ruficollis, Crex crex, Himantopus himantopus, Glareola pratincola, Gelochelidon nilotica, Larus melanocephalus, Numenius tenuirostris, Pelecanus crispus, Phalacrocorax pygmeus, Recurvirostra avosetta, Sterna Albifrons, Sterna sandvicensis and many more.
Lake Bourgas (known also as Lake Vaya) lies on the west side of Bourgas and is the biggest natural lake in Bulgaria. This is also a nice place for fishing and bird-watching. About 250 bird species and 25 fish species live here such as swans, pelicans, ducks, egrets, cormorants, grebes, squacco herons and black-crowned night herons, etc. (Nycticorax nycticorax, Phalacrocorax pygmeus, Ardeola ralloides, Egretta garzetta, Pelecanus crispus, Aythya ferina, Branta ruficollis, Oxyura, Aythya fuligula).  Some of the birds are rare, that's why a part of the lake is declared a protected area.
Lake Mandrensko (complex Mandra – Poda) is a combination between a lake and a lagoon and is located very close to the Black Sea and Bourgas, on the left side of the road to Sozopol. It is also a protected area because of the endangered species of birds which nest here.
In 1997 in the Protected area "Poda" was built the Ecology Protection Centre "PODA", which became the most popular place for bird watching in the region. Many birdwatchers from all around the world are coming here to see some of the 265 bird species, residing here. There include: the glossy ibis, the black-crowned night heron, the spoonbill, the Dalmatian pelican, the white stork and many others (Platalea leucorodia, Plegadis falcinellus, Ardea, Sterna hirundo, Phalacrocorax carbo, Aythya, Anatidae, Circus aerugino, Pelecanus onocrotalus, etc.). The Center is equipped with special optics, library and a video hall.
Another interesting bird-watching destination is the Pomorie Lake which is only 2 km north of the town of Pomorie. This is a very salty lagoon which also a protected area, because of the rare and endangered birds and other species which live here. There is a Visitor and Conservation Centre, where the tourists can learn interesting facts about the flora and the fauna of the lake and get useful information about the most interesting places where rare birds and other species can be observed.
On the territory of the lake reside around 269 bird species – some of them nest in the area around the lake, for example the sandwich tern (Sterna sandvicensis), the pied avocet (Recurvirostra avosetta), the black-winged stilt (Himantopus himantopus), the Kentish plover (Charadrius alexandrinus), the common tern (Sterna hirrundo), the little tern (Sterna albifrons), and more.
Some external links for further reading: