Watersports in Bulgaria
You are about to book a room at our place or you have a reservation in one of our cozy villas, but you have not decided yet what you will do in your spare time? Well, in this case, this article will give you basic guidelines specifically on water sports – what kind of exercises you can practice on the Black Sea coast, and where is the best place to do so. Water sports, which can be practiced in Bulgaria, are quite varied. On the Black Sea there are wonderful conditions for water sports like kitesurfing, windsurfing, surfing and underwater diving. All this is a great opportunity to take initiative and embark on a great adventure, and our team can give you additional guidance at any time.
Book your holiday villa in Bulgaria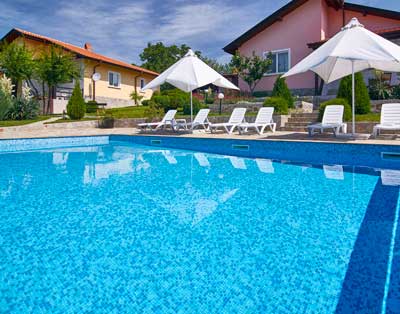 featured
1.Windsurfing, Wake and Kitesurfing
These water sports are practiced mainly on the Black Sea coast.
Windsurfing is actually a combination of sailing and surfing on the waves. Adventurers who practice it use a surfboard, larger than the standard, and navigate through the sea surface. Windsurfing schools can be found almost all along the sea. They welcome advanced surfers, beginners and even children. You can take individual or group training for a period of at least 7 days. The ideal places for this kind of sport are Burgas and Nessebar.
Wake-surfing is practiced on artificially created waves of a boat, using a board. The boats have elevated platforms and usually drive at a low speed. Because of its ease of absorption, this type of water sport has quickly become popular and its safety attracts many. Unfortunately, at the Bulgaria seacoast the sport is still less practiced, but its interest increases with each year.
photo by http://www.ambil-yam.co.il
Kitesurfing is a fairly new water sport, both in our country and abroad. It's a mix of surfing, wakeboarding and windsurfing. The pleasure of practicing it is indispensable, but it is also very dangerous, unlike other similar sports. The equipment is lighter, but the danger of being dragged by the wind is enormous. That's why adventurers love it. For the time being, kite surfing holds a championship among other sports. It is a very expensive pleasure (approximately 80 BGN per individual session and nearly 300-350 BGN for a full beginner course), but it is definitely worth it. Suitable places with a constant, parallel shore wind on the Black Sea coast are Sunny Beach and Golden Sands. Just bare in mind that this activity may not be suitable for young people ages 18 and less, or for others who have more experience with swimming in the pool rather than in the sea.
photo by https://sofiaglobe.com
2. Water skiing
This sport can be practiced successfully both on the sea and on lakes and dams in the interior of the country. In many of these places special water bases have been built, equipped with motorboats to pull the water ski enthusiast. There is also a possibility for the tourists to hire equipment at place. The price for all this pleasure for an hour with full equipment and a motorboat with a driver is in roundabout 150 BGN. On the Black Sea coast, many of our big sea resorts (Golden Sands, Sunny Beach) also offer water skiing. If you decide to try this exciting experience, we can make a reservation for you.
photo by www.visitvictoria.com
3. Underwater diving in the Black Sea
Practicing water sports of this kind is an indescribable experience. Anyone who has tried definitely wants to do it again. Underwater diving provides the opportunity to see unique marine species in the Black Sea and to observe the many ancient remains under the water surface within our borders. In all of our major cities resorts on the sea are available diving centers. They offer training and equipment, but also guidance during diving. Places suitable for practicing diving are the rocky places around Nessebar, Pomorie and Sozopol. Boat diving around the islands of St. Ivan and Smyans, around Paradise Bay, Dune and Alepu. Many archeological remains can be seen, such as anchors, remains of household objects, bronze-era dwellings, and cannons. The Ropotamo and Primorsko Reserves are a paradise for divers, who also abound with archaeological remains.
4. Kayaking and rafting
Kayaking in Bulgaria is a water sport that can be practiced on both fast-flowing or slow-flowing rivers as well as on the sea. Special boats – 'kayaks' – are provided for this purpose along with training and safety instructions. A preferred place for water sports is town of Primorsko , Sozopol, Sunny beach, Bolota beach and Kamen beach areas along the Black Sea coast.
photo by www.sunandsany.com
These and many more water activities can be practiced on our beautiful Black Sea coast. If any particular sport has attracted your attention please leave a comment below or contact us directly