The Bulgarian Rose Valley & Festival
There is one thing that comes to mind, whenever a foreigner hears about Bulgaria and this is ROSES. The Bulgarian Damask rose. In this article, we are going to tell you all about the Valley of roses, the outstanding Rose Festival and the importance of the Bulgarian rose.
Destination Bulgaria
You may have heard about the huge interest of Bulgarian roses? There is a reason for this.
In the valleys of Kazanlak, Karlovo and Kalofer grow the most exquisite and expensive roses on Earth. The Damask rose can be found in those specific regions of Bulgaria, and it is absolutely safe to say that there are not many other places on the entire planet, where it grows and develops in its natural habitat. As you can probably guess this is the reason why Bulgarian rose products are of such high quality and are in such demand worldwide.
The main point of interest for tourists is naturally the Valley of Roses – near the city of Kazanlak. It is also the Valley of Thracian Kings, which is yet another reason why you would want to visit this beautiful place.
Book your holiday villa in Bulgaria
One thing that attracts tourists and brings them back year after another is an outstanding nature. If you are a lover of nature you must definitely visit this charming historical place – Thracian city, that is comfortably lying in the embrace of Stara Planina Mountain. If you visit the city you definitely go for a hike in the skirts of the mountain, since it is really close and the nature is so picturesque.
But back to the main topic – Bulgarian roses.
Rose festival in Bulgaria
This is what Kazanlak and the Valley of roses are really famous for. If you find yourself visiting the city in the middle of May or the first days of June, you are highly likely going to experience the Rose Festival in the city. It is a colorful, bright celebration of the magic of the Bulgarian rose. An outstanding number of tourists (over 50 thousand) flock to the city each year to participate in this unique celebration. It is especially popular amongst Japanese tourists, but people from all over the world travel thousands of miles just to witness the coronation of the Queen of the roses and to participate in the rose picking rituals.
The festival's peak point is the coronation of the Queen. And the entire city is always really excited about it. Because competition takes place each year and is one of the greatest and most important traditions of the community. The role of the Queen is quite significant because she gives the official start to all the joy and interesting events during the festival. She is also the one to lead the ritual of rose picking and the one to represent the beauty, fragility, and tenderness of the rose.
Book your holiday villa in Bulgaria
Once the Rose Festival in Kazanlak begins, there are many events and activities you can choose from. You can visit the fields, where roses are picked or distilleries where the precious rose oil is prepared. One thing you have probably hear is how expensive the rose oil actually is. And that is one important thing to keep in mind whenever you purchase a rose product. If it is too cheap it probably does not contain rose oil but rose water. The rose water is just as fragrant and rich in quality but it is still not real rose oil. We are going to tell you more about rose products and their qualities by the end of this article.
If you are coming to Bulgaria for your summer holiday or if you are staying in a rental villa on the Bulgarian seaside and can't make it in time for the actual festival – there is no need to worry. There is a lot to be seen in the city even if it is not the exact time of the festival. You can visit the Rose Museum, located in Rose Park in the city. There you can learn more about the science of extracting and using rose oil in numerous products, you can learn more about how the Damask rose found its home in the Kazanlak Valley and even have the chance to see first-hand some tools and special equipment used for the extraction of rose oil.
Domestic food and souvenirs from Roses
Naturally, you can buy souvenirs, information material, and postcards. What tourists, visiting Kazanlak, prefer to purchase is some tiny flask of Rose oil. Keep in mind that real, authentic rose oil is not that easy to find, and if you find some really cheap version – it is probably not authentic. You should be able to find some quality material in the Rose Museum. Our advice, however, is to choose items based on the rose oil and rose water. There are limitless opportunities – chocolates with real rose petals, latte with rose flavor. You can find anything rose flavored in the city of roses.
Photo of Homemade chocolate with rose leaves
We highly recommend some local brand of Rose Wine, and those of you who are lovers of the Bulgarian national alcoholic drink – rakia – there is Rakia with rose petals. It is so fragrant and delicious. You should try it while in Kazanlak. And do not forget to bring some back to your holiday rental villa in Bryastovets, Bulgaria – it is a great addition to every meal.
The famous Organic Bulgarian Rose water – Applications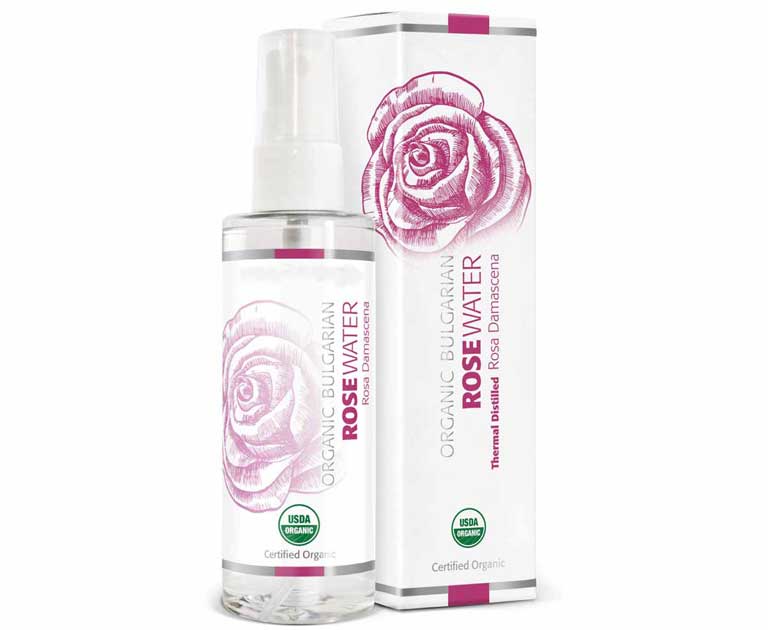 If you actually find yourself visiting Kazanlak you should consider purchasing some original rose water as well. It has proven to be one of the most versatile and unique products that come from the Damask Rose. Rose water is quite beneficial for one's health as it heals scars, cuts, wounds and burns and bruises, it helps soothe any form of skin irritation, has anti-aging properties, has antioxidant properties, heals headaches or stomachaches (but only in small doses, that are carefully calculated), etc. There are numerous applications of the rose water – including that is has a really pleasant aroma – so it is guaranteed to come to good use no matter why you decide to purchase it.
Rose oil cosmetics
Many cosmetic products are also based on rose oil and rose water and they share the same positive effects. Many people purchase the original Bulgarian Rose products as yet another means of treating skin infections and sore. Roses, and especially the Damask rose have that anti-inflammation effect and are a general source of relief to any such issue. Any product that is authentic and comes from roses has the very same effect.
Photo of making of Bulgarian Rose Oil
Rose water is often used as a makeup remover as well since it is nourishing for the skin and has those properties. There are so many benefits to rose products – do not miss the chance to get your hands on some of the highest quality products at the most affordable prices (keeping in mind that you buy them directly from the manufacturer most of the time).
The Valley of Roses is one of Bulgaria's absolute treasures. It does not matter if you visit it in the wake of May or the end of August- Kazanlak and the Valley have so much to offer! Take a chance – spend a day away from your beautiful holiday rental villa – and visit this outstanding place. Experience the beauty of the Valley of Roses and Thracian Kings and enjoy your getaway to one of Bulgaria's most beautiful nooks. You will not regret it.
Book your holiday villa in Bulgaria