Basics on Getting There
Organise your travel arrangements
For UK guests the fastest and most comfortable way to get to the villas is to fly from an UK airport of your choice to Bourgas airport. We provide airport transfers from Bourgas, Varna and Sofia airports.

Guest from rest of Europe (Germany, France, Switzerland, Hungary, Poland, Romania) might consider driving to Bulgaria. Finding your way straight to the villas could be difficult for people driving for the first time in Bulgaria. To make it easier for both of us we can make an arrangement to wait for you at the very beginning of the city of Bourgas and then escort you to the villa. This service is also free of charge.
Book your holiday villa in Bulgaria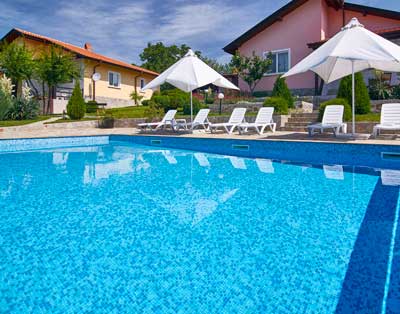 featured
Bulgaria on the map of Europe
Entry requirements

Visas
EU citizens holding valid passports can enter Bulgaria without requiring a visa.
Dual nationals of Bulgaria and any other country should enter and exit Bulgaria on their Bulgarian passports. It is always advisable to carry your Bulgarian travel document with you as well as that of your second nationality.
---
Passport Validity
All citizens, including EU citizens, should ensure that their passports are valid for at least three months after their departure from Bulgaria.
---
Travelling with children
All children entering Bulgaria will need to have their own passport. Children included in parents' passports will only be allowed in if the passport also contains their photograph. Single parents or other adults travelling alone with children should be aware that some countries require documentary evidence of parental responsibility before allowing lone parents to enter the country or, in some cases, before permitting children to leave the country.
---
Customs Regulations
Travellers do not normally pay any tax or duty on excise goods they have bought tax and duty paid in EU countries for own use. But there are special rules for cigarettes and some other tobacco products from some EU countries. The limit for Bulgaria (when coming back home) is 200 cigarettes.