Winiety samochodowe w Bułgarii
Do poruszania się po bułgarskich drogach wymagana jest winieta, której zakup jest konieczny i nie można go uniknąć. W odróżnieniu od innych krajów, w których funkcjonują winiety, takich jak Austria czy Szwajcaria, winiety bułgarskiej nie da się kupić poza Bułgarią. Jeśli więc wjeżdżacie Państwo do Bułgarii samochodem, powinniście kupić winietę na (za) granicznym punktem kontrolnym. Jeżdżąc po Bułgarii bez ważnej winiety, ryzykuje się mandat w wysokości ok. 60EUR.
Book your holiday villa in Bulgaria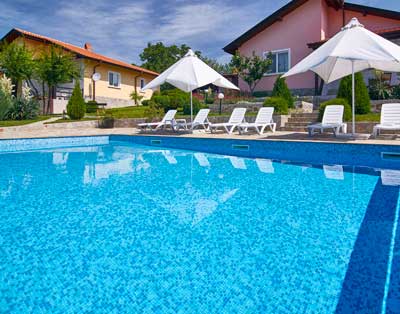 featured
Book your holiday villa in Bulgaria
featured
Następujące typy winiet są dostępne w Bułgarii:
Typy i ceny na rok 2019
Ceny dotyczą samochodów z zagranicznymi (nie bułgarskimi) tablicami rejestracyjnymi:
1 Tydzień
1 Miesiąc
EUR 8,00
EUR 15,00
3 Miesiące
Roczna
EUR 28,00
EUR 50,00
Gdzie kupić
1/. On-line
2/. Off-line
Winiety są sprzedawane na granicznych punktach kontrolnych i na większości sieciowych stacji benzynowych. Z pewnością możne je dostać na następujących stacjach: Lukoil, OMV, Shell…

| | |
| --- | --- |
| Lukoil | |
| OMV | |
| Shell | |
| Petrol | |
| Eco | |
| Rompetrol | |
Jak kupić
Kupując winietę powinna ona być aktywowana na okres, w którym będziecie jej Państwo potrzebować. Aktywuje się ją poprzez wybicie dziurek i podczas kupna zostaniecie Państwo poproszeni o podanie dnia od którego winieta ma być ważna. Winieta tygodniowa jest ważna przez 7 dni licząc od dnia aktywacji. Winieta miesięczna jest ważna przez 31 dni od daty aktywacji – na przykład kupując winietę miesięczną 15 lipca, będzie ona ważna do 15 sierpnia. Sprawa wygląda inaczej z winietami rocznymi. Są one ważne przez rok kalendarzowy – to oznacz, że winieta roczna kupiona w październiku będzie ważna tylko do końca grudnia (roczne winiety są obecnie ważne do 31 stycznia, ale to może ulec zmianie w przyszłości).
Dzień zakupu winiety nie musi koniecznie być dniem, od którego winieta jest ważna. Winietę można kupić z wyprzedzeniem, którego długość zależy tylko od kupującego. Ważną rzeczą jest aby prawidłowa data rozpoczęcia działania winiety została na niej oznaczona poprzez wybicie dziurki w odpowiednim miejscu.
Przyklejanie winietowej naklejki
Winietowa naklejka jest ważna tyko jeśli została prawidłowo przyklejona do pojazdu. Sam zakup winiety i posiadanie jej przy sobie NIE są wystarczające. Po usunięciu tylnego zabezpieczenia naklejki, musi ona zostać przyklejona, bez żadnego uszkodzenia na przedniej szybie auta, od wewnątrz, w dolnym, prawym rogu (patrząc od środka). Naklejka musi być dobrze widoczna z zewnątrz pojazdu, w celu sprawdzenia ważności winiety. Krótkoterminowe winiety (na 1 miesiąc lub na 7 dni) muszą zostać oznaczone poprzez wybicie dziurek przed przyklejeniem do szyby. Winiety nie oznakowane dziurkami lub nie naklejone na szybę nie są ważne i w przypadku kontroli należy się spodziewać nałożenia mandatu. Dolna część winietowej naklejki (folia z numerem seryjnym) musi zostać zachowana jako dowód zakupu.
Nowość w 2012 roku – numer rejestracyjny nie jest wymagane dłużej
Przed przyklejeniem winiety na przedniej szybie, należy na niej wpisać numer rejestracyjny samochodu – w polu w górnym prawym rogu naklejki. Tylko winiety z prawidłowym numerem rejestracyjnym są ważne. Dodatkowo okres ważności naklejki musi być oznaczony poprzez wybicie dziurek w odpowiednim miejscu. (nie jest wymagane dłużej)
Official site of Bulgarian vignette stickers:
Bulgarian road infrastructure agency