Seaside Holiday Villas in Bulgaria
Holiday villas in Bulgaria for rent
Private self-catering vacation rental in Bulgaria from the owner
A Villa in Bulgaria?
In Bulgaria more and more travellers are renting villas rather than staying in hotels. Why? Firstly, villas are more comfortable and functional (you have the option to cook a meal, for example). Secondly, you get to experience life as a local, and keep away from undesirable 'tourist traps'. Thirdly, very often it's a much cheaper option.
Visiting Bulgaria? Good choice — as we say here. You will find the locals to be a charming and easy going lot and great to hang around with. That's why we believe that if you rent a villa rather than stay in a hotel you experience more of the real Bulgaria.
Book your holiday villa in Bulgaria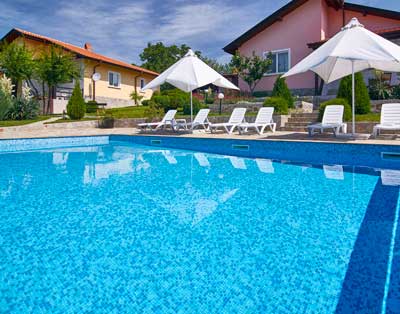 featured
Many are the benefits of choosing vacation rentals in Bulgarian villas as opposed to Hotel accommodation. Top of the list is the complete freedom in organising your holiday, planning your own schedule and arranging your meals to suit you, whether it be at one of the excellent local restaurants or in a leisurely atmosphere on the patio, as the day slowly fades away in a magnificent sunset.
Our Villas in Bulgaria
Most of our holiday villas are 3 bedroom, sleeps 6. All villas are newly built and set on three gated communities – "Green Life Villas" (3 villas), "Sunny Hills Villas" (16 villas), and "Royal Villas"(two villas) – each complex with its own swimming pool. The villas are perfect for family holiday away from the crowded places like Sunny beach.
---
Sunny Hills Villas

'Sunny Hills Villas' is a holiday complex of (16) sixteen hoiday villas with shared swimming pool. Each villa has three bedrooms – two double bedrooms, one twin bedded room, one shower room, a kitchen with dining table for six, and living lounge with Satellite TV and DVD. The kitchen is fully equipped with cooker, fridge, freezer, and all the cutlery and pottery.
Just imagine sipping the local wine down by the pool, in complete relaxation, immersed in the splendid panorama that surrounds you. The character or splendor of our villas rentals leave you with sweet memories as you sink into the Bulgarian culture and way of life, something you would not experience in the usual package tour or hotel accommodation.
---
Royal Villas

"Royal Villas" is a set of two wonderful villas with their own swimming pool. The two villas are modern (and well equipped with the latest items to make sure your holiday break is as perfect as possible. If you are looking to get some summer sunshine in Bulgaria then look no further than these stunning villas. "Royal Villas" are the best option as they provide you with the flexibility to eat in the villa or go out to local restaurants to sample the local delights.
---
The rental prices includes following services:
3-Bed villa (sleeps 6) – for Sunny Hills Villas
Two 3-bed villas (sleeps 12) – for Royal Villas
Bed linen and towels
Sun beds
Swimming pool -(shared for Sunny Hills Villas)
Swimming pool -(private for Royal Villas)
Water and electricity
Our changeover day is flexible (we have no specific arrival day)
Location
The villas are set in the peaceful and charming village of Bryastovets. While the quiet location is far from every disturbance you are still 20 minutes drive to the city of Bourgas (south) and again 20 minutes drive to the largest and best known holiday resorts of Sunny Beach and Nessebar (west) where you can refuel yourself with energy, stroll trough antic alleys, swim in the blue sea or having a delicious meal and refreshing drinks in one of the hundreds pubs, bars and restaurants.
Bourgas is the next large city to the best known tourist location in Bulgaria – Sunny Beach. Bourgas is located on the southern Black Sea coast where are Bulgaria's most beautiful beaches. We believe that you can appreciate Bulgaria more by staying in a villa rather than a hotel. The beaches are of beautiful golden sand and the sea is safe for children. All family activities include water parks, water sports, go-kart, cycling, windsurfing, jet skis and bungee jumping.
Why Choose Us
We are a small family run company that looks after the villas. We maintain the villas, pools and gardens, airport transfers, manage the holiday bookings and look after the guests while on holiday. We are every day on site and while not there we are available 24h on the phone. We surely can help with all your needs and suggestions for sight-seeing and tours of the most interesting Bulgarian towns.
Our Services
We can help you with maps, route instructions, travel tips, and other support services that will make your self-guided vacation in Bulgaria exciting and hassles free. On our site you can also book a car for the period of your stay, or ask for a driver who can be hired occasionaly (for supermarket shopping or to go to the beach).