Costs of fruits in Bulgaria
Bulgaria is famous for its outstanding cuisine and quality produce. If you are a lover of fruits, you might want to know where to find the freshest and most delicious treats on the market and of course on what costs.
Variety of Bulgarian fruits
In Bulgaria, we take great pride in the way we cultivate both fruits and vegetables. The high-quality produce is grown in real, natural orchards and on the fields. It is completely eco and has the most exquisite taste. This is mainly due to our great climate and geographical positioning. The fact that crops get just the right amount of sunlight and ripen in outstanding conditions really develops greater and greater flavor. Many tourists wonder how it is possible that produce in Bulgaria has a generally better taste than any same products in the EU. Well, the answer to that is simple – we strive to get the cleanest, freshest and most natural product. We rely mostly on nature to do "its job" and stick to the original way of cultivating produce.
Thanks to the perfect climate in Bulgaria with its four different seasons, an impressive variety of different fruits is on offer for the entire year. You can find everything: from exotic ones (such as pomegranates and figs and even kiwi) to the common ones (pears, apples, berries of any kind).
Photo of Bulgarian strawberries
On the seaside, the climate is especially suitable for growing figs as well as all the other "classic crops". So if you are looking for a sweet delicious treat you might as well head to the local market in your resort and search for homegrown produce. Chances are you are going to come across some really delicious, eco-grown crops and all that at a really low price.
If it is your first time visiting Bulgaria, even if it is in a private holiday villa or a rental holiday apartment, you probably have no idea what to expect from the local markets. There is this thing called a fruit or vegetable market in almost any resort on the Bulgarian seaside. If you can't find your way to such a market just turn to some of the locals for directions. They will definitely be familiar with the exact location and the items on offer. In case there is more than just one of those markets you may also ask about the one with the best prices or the highest quality of produce. There will definitely be a place that matches your needs perfectly.
Photo of Bulgarian figs
One of the main reasons why you should choose the local markets and not the larger food chains is the fact local people sell their homegrown produce at smaller and humble-looking places. But that does not determine the flavor of the produce. The exquisite quality of fruits and the outstanding and rich flavor are the things that should draw you to local kiosks and markets. Another thing you might want to keep in mind is that locally grown fruits are not only tastier but way cheaper than those sold in larger supermarkets. If you are looking for a freshly picked fruit than search no more and head to the local fruit market. It is good to remember that most sellers on the market will allow you to personally choose the items you desire to purchase. Which is a major advantage since you get exactly what you expect for your money?
Photo of Bulgarian local fruits & vegetables market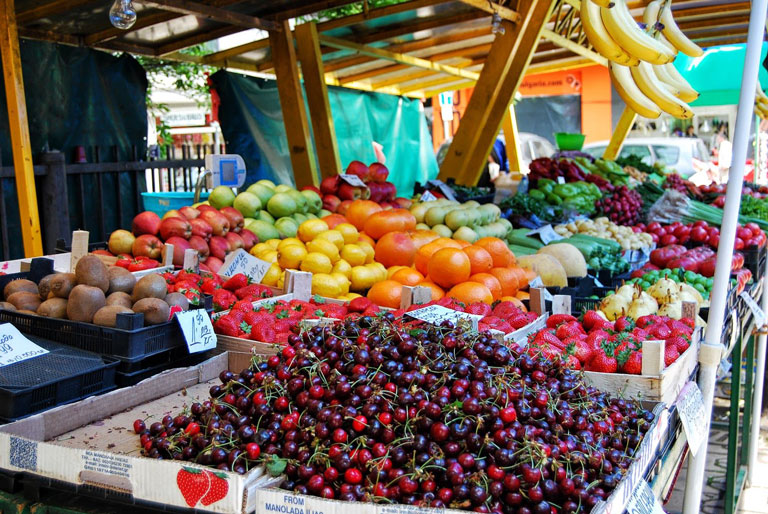 Another great place to buy products is the roadside markets. If you find yourself driving around Bulgaria in the peak of summer, you will definitely notice some small market-like spaces. There the local farmers and producers offer their crops for sale. Usually, most of them have been picked from the nearby gardens and fields and are not only as fresh as you can get them but also as cheap. This form of fruit trade is preferred even by the locals since the produce is on bargain but the quality is one of the highest possible. Do not miss the opportunity to chat with the local farmer as well as they would advise you on the freshest, ripest and delicious fruits they offer.
Photo of Bulgarian roadside fruit market
Prices of fruits in Bulgaria.
| Bulgarian Local Fruits | Price per kilo |
| --- | --- |
| Cherries | 3.00 BGN |
| Apples | 1.50 BGN |
| Plums | 1.20 BGN |
| Peaches | 3.00 BGN |
| Pears | 2.50 BGN |
| Figs | 4.00 BGN |
| Kiwi | 4.00 BGN |
| Grape | 2.50 BGN |
| Pomegranates | 2.60 BGN |
| Apricot | 2.00 BGN |
| Strawberries | 3.00 BGN |
| Watermelons | 0.80 BGN |
| Melons | 1.00 BGN |
| Blackberries | 6.00 BGN |
| Blueberries | 7.00 BGN |
| Raspberries | 6.00 BGN |
| Persimmon | 3.00 BGN |
| Nectarines | 2.00 BGN |
| Almonds | 9.00 BGN |
Before you go fruit shopping you should remember that it would always be way cheaper to purchase products from the locals. Larger supermarket chains have their fruits delivered from all over the EU (Greece, Italy, Spain). This naturally raises the cost of the items almost twice or thrice and also the entire transportation procedure may lower the quality of the produce. Meanwhile, the locals offer the fruits of their labor for the entire summer on prices as low as 0.8 leva – 5 leva per kilo. It would always be easier and cheaper to enjoy seasonal fruits. While on your summer holiday in a rental villa with a swimming pool, you can easily find a wide variety of fruits. In the peak of summer, the seaside is overflown with peaches, watermelons, melons, figs. All of these outstanding fruits come quite cheap. Usually, peaches cost somewhere between 2.00 to 3.00 BGN (leva). The same goes for apples, nectarines, plums. Naturally, the more exotic fruits such as figs, kiwi, pomegranates reach prices of about 4.50 Bulgarian leva per kilogram. Or the pomegranate of 2.6 BGN. If you notice someone selling fruits at ridiculously low prices keep in mind that they might be selling them as the key component of a typically Bulgarian fermented drink – called rakia. Those fruits are not suitable for consumption and it is advised that you ask the vendor in advance about that.
Photo of Bulgarian plums
Depending on the seasons you chose to visit Bulgaria you can enjoy quite different variations of fruits. Most tourists that spend their summer holiday in Bulgaria have the chance to try some of the delicious homegrown apples, plums, pears, peaches, melons, grapes, strawberries, figs, etc. But those of you who have decided to visit the country in the spring might as well get the chance to try the fresh juicy cherries that are on offer at that time of the year. It is important to note that some of these fruits can be found off-season as well so you really should not worry if you are going to find some delicious nutritional and rich in vitamins produce throughout the entire year.
Photo of Bulgarian peaches
The exquisite flavor of Bulgarian fruits is really something you ought to experience while on your holiday in the country.
There is nothing more refreshing then sinking your teeth in a juicy piece of fruit on the hot summer days while resting near the pool of your holiday rental villa in Bulgaria. Choosing our villas you are without a doubt getting a good value for your money.
Book your holiday villa in Bulgaria